Of all types of jackets, bomber jackets are perhaps one the most searched due to popular trends along with rich history.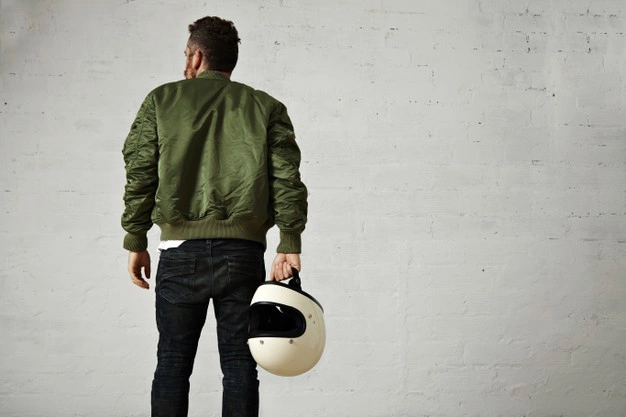 Bomber jackets have emerged into a fashion sensation that knows no boundaries, culture, or language. They have never been more extensively recognized across the world compared nowadays, all thanks to the bomber jacket's functionality, gender-neutral structure, and suitability to all ages. No wonder many bomber jacket manufacturers are hitting the clothing industry by storm. Here are the things you need to know about bomber jackets and which style might suit you.
What is a bomber jacket?
Did you know that the bomber jacket was invented during World War II to keep the first fighter pilots warm against cold weather at high altitudes?
It was a leather hip-length and zip-up jacket that was introduced in the 1940s, and as new plane models flew faster while cockpits remained open and unsecured from many elements, the jackets evolved. Bomber jackets, called B3 at that period, started to be made from nylon and wool materials. The advancements made for aerospace technology was a massive help because it saved pilots from harsh rains and vicious winds.
Although the bomber jackets were vital for the military, they gradually became part of the civilians' wardrobes as well. In fact, the MA-1 model, featuring nylon fabric with orange lining, became one of the well-known bomber jackets as it crossed over various borders and civilizations.
Are bomber jackets still in style?
Of course! Although bomber jackets are not so different from the first bomber jackets (hip-length and zip-up at the front), men can now select from a wide range of designs, colors, materials, and sizes.
A traditional bomber jacket, which can be made of cotton, nylon, leather, polyester, or even fur, is at hip-length with a ribbed waistband and matching cuffs. It has a front zipper and sometimes has four functional pockets at the top and sides. But it evolved into some styles through the years, like having a shirt collar with a Shearling lining, minx fur, or getting a flat round plain collar matching the waistband.
Essentially, we can say that bomber jackets, whether new or old, never goes out of style. As long as you have the right matching clothes, you can surely rock your outerwear and give yourself a great look.
List of Different Bomber Jacket Types
As versatile and multifunctional fashionwear, bomber jackets are the perfect outerwear to keep you warm and protected in wet weather or chilly winters. Still, they can be used to add a statement to your image. Like their variety in styles, bombers offer an extensive range of designs and material choices. With so many options in the global market, it might be overwhelming and challenging when selecting the ideal bomber jacket. Hence, here is a glimpse of the different bomber jacket types you can choose from.
Vintage bomber jacket
Oversized bomber jacket
Cropped bomber jacket
Bomber jacket with fur collar
Leather bomber jacket
Puffer bomber jacket
How to Style with Different Types of Bomber Jackets
1. VINTAGE (RETRO) BOMBER JACKET
Vintage or retro bombers are not only for men who are just in their 20s and 30s, for they also work equally well even in their 40s. This is because, like denim and jeans, vintage bomber jackets are simply one of the selected groups of clothing that get better with age. You can think of them as somewhat an alternative to denim jackets. They are an excellent option for a weekend style, which will bring out a fresh vibe when paired with your everyday staple wear.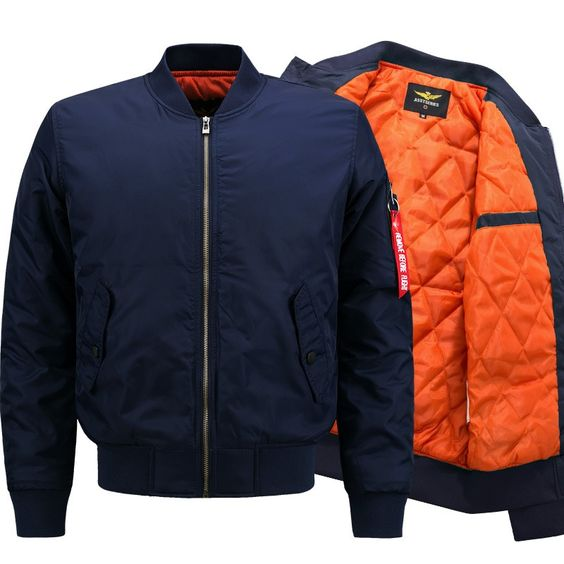 One example of vintage bomber jackets is the MA-1 that Alpha Industries pioneered. These bombers are also known as flight jackets since they were initially designed for Air Force fighter pilots. The vintage bomber jackets were originally army green on the outside and bright orange on the inside. The explanation behind the color selection is that if a pilot was in distress or had crash landed, he could flip his jacket inside out and be noticed quickly from afar.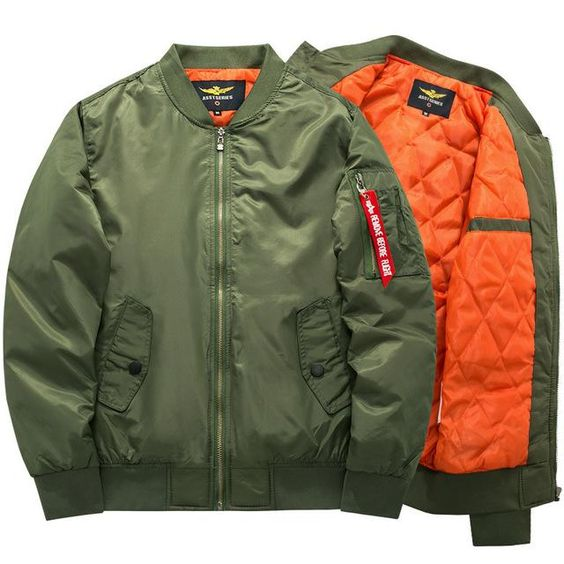 Nowadays, vintage bombers are also worn by civilians. Flight jacket manufacturers see the trend in wearing vintage bomber jackets as they became popular just like any other outerwear style. This design is made from mid-weight flight nylon that is both comfortable and water-resistant, making it perfect outerwear for wet winter months.
What's more interesting is that vintage bombers are reversible, so if you want some change and like to make a statement, you can surely rock the bright orange lining as the outer layer. Thus, you get to have two jackets for the price of one. Apart from having two layers, retro jackets have other features, such as the utility pocket on the sleeves, a knit rib collar, cuffs, and waistband that envelop the body, making it cozy and flattering.
2. OVERSIZED BOMBER JACKET
You might wonder if bombers are supposed to be oversized or not. Well, technically, they are not since bomber jackets are considered shorter than your typical jacket. Bomber jackets are classics that never get old, but there are times that they can be a bit off, depending on your wardrobe preference.
However, loose or oversized bomber jackets will not be a problem. You should know that as we transition to the winter season, slouchy overcoats and loose bombers are still in line with the 2021 fashion trend.
What's impressive about wearing oversized bomber jackets is the ability to layer, which is one of the best things in terms of menswear. Oversized outerwear does leave a lot of room, making you inventive about what you can put underneath. This is why a large bomber is considered a winner among other jackets. However, make sure to pair it with slim pants to complement its chunky look.
3. CROPPED BOMBER JACKET
Do you think only women can wear cropped top clothing? Well, think again. The fashion industry is evolving, so it is not surprising to know that typical women's fashion wear can be worn by men too, and vice versa.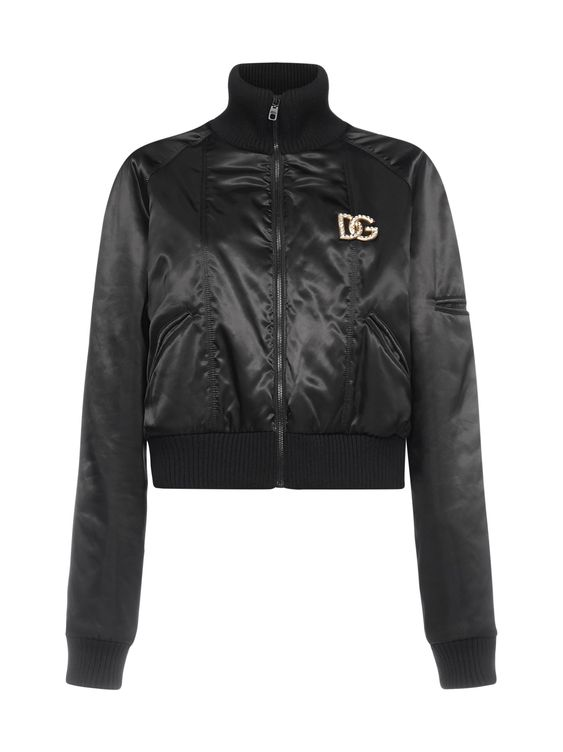 This chic outerwear can be your primary clothing in spring outerwear, and surprisingly, you can wear it in many ways. For one, you can wear it fully zipped or leave the front unzipped, showing your inner clothing. Another, if you are wearing a high waist trouser, you can tuck in one side of the front, again leaving the jacket unzipped to give your style a bit of a flair. Lastly, if you are confident enough to show your well-built bod, then why not flaunt it by not putting on any innerwear and leaving your cropped bomber jacket fully unzipped.
4. BOMBER JACKET WITH FUR COLLAR
Fall and winter season is coming, and it is all about coziness, so you better get prepared, right? Now, what is the best thing to keep you warm and cozy, and even stylish in cooler months? That's correct, fur coat. But if you enjoy a bomber jacket style and want a comfortable, warm feeling, a bomber with a fur collar is suitable for you.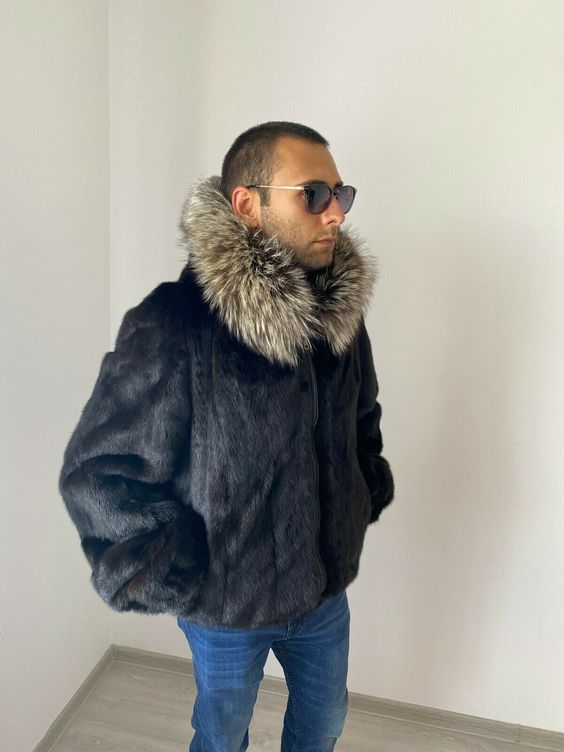 Apparently, fur clothing is a great selection to mix up both fashion and comfort during the fall and winter months. However, not all men prefer full fur clothing, plus most of them still like the simplicity of bomber jackets. It's a good thing that there are plenty of bomber jackets with fur collars made nowadays by bomber jacket companies since they knew the curve of demand regarding style and convenience.
By the way, you can partner your bomber with almost anything, whether you are wearing bottom jeans, slacks, tight pants, or even short pants.
5. LEATHER BOMBER JACKET
When it comes to bomber jackets, it hardly matters whatever the material is, and this is why bomber jackets are considered timeless.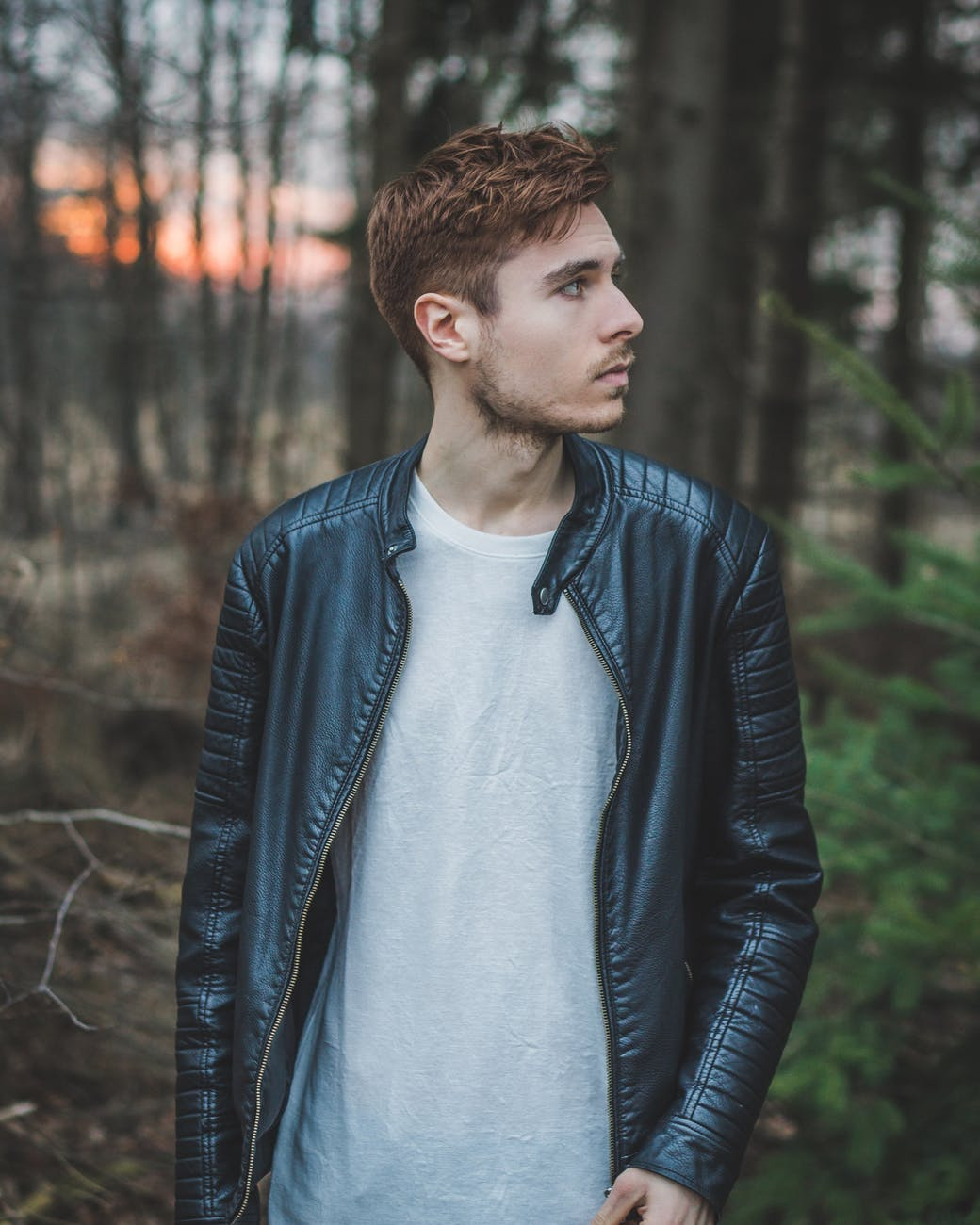 Leather bomber jackets can be your original and timeless choice. To rock this outerwear, you can begin by selecting your preferred color that also matches your skin shade.
Generally, black shade is the best choice if you want to achieve an edgy look. Also, it would look good if partnered with a black T-shirt or hoodie, slim black jeans, and boots or sneakers. On the flip side, other colors like brown can offer a softer vibe. Then you can pair it with a white shirt and blue jeans.
6. PUFFER BOMBER JACKETS
Last but not least, you can make a statement this season wearing puffer bomber jackets. This bomber jacket can be fashioned in various ways, along with trainers and jeans for a casual but cool look. Furthermore, you can still achieve a sleek appearance even if you are wearing this beefy jacket if you opt for an item of all-black clothing.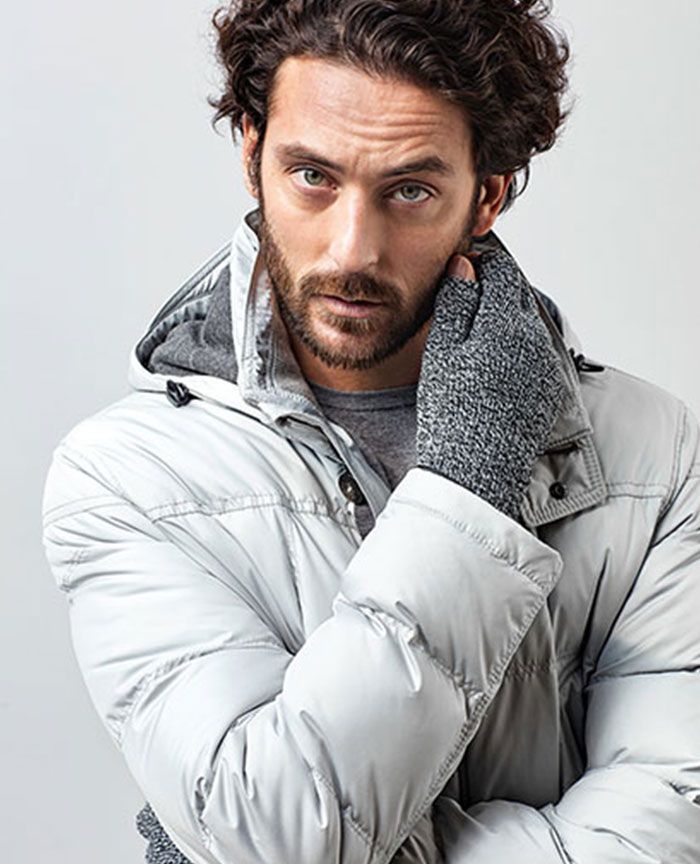 You could keep a stylish and warm image even if you chose to wear a puffer jacket, as long as you wear something that features a funnel neck or hoods with a wet look and black color hues. More than that, you can shop for lightweight puffer jackets, including padded and quilted jackets from reliable bomber jacket companies, like Fangyuan.
Fangyuan: Your Reliable OEM Jackets Manufacturer
Fangyuan is a reputable OEM jackets manufacturer based in China. Our company offers a wide variety of jacket designs from which our clients choose. As an OEM garment manufacturer and supplier, we take pride in our ability to customize the clothing designs of our clients down to the last detail.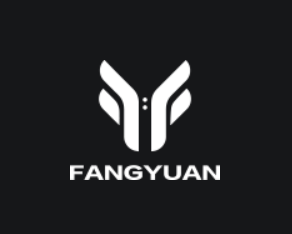 Each fabric material goes through an in-depth series of tests that checks our garments for potential leaks or tears. Our materials are all crafted for optimum warmth and UV resistance. Moreover, they are very ideal different seasons and regions, plus our jackets could handle a great deal of wear and tear through the years.
Here are the reasons why you should trust us with your jacket needs:
Here in Fangyuan, we give a great deal of importance when it comes to jacket customization, making it our leading service as an OEM garment manufacturer. Simply send us any design you like plus other specifications, and our OEM coat factory will create a sample for your approval. Once the model passes your standards, that is the time we can proceed with mass production.
The raw materials we use for our garments are hand-picked and well crafted by our skilled workers. In addition, each stage in our jacket production floor is well guarded by our quality service team, ensuring that each finished product passes the international standards.
We offer low MOQ that is friendly for both startups and large-scale businesses. Although our OEM coat facility can get orders of any size, we also accept MOQ orders as low as 300 pieces only. This is what sets us apart from the competition.
The Bottom Line
Even if bomber jackets can be worn and styled in different ways, more often than not, these outerwear make it more difficult for men to wear them. This is why it is essential to know first your individual style. Since style remains an ever-evolving factor, you can surely choose the best bomber jacket that will speak for your image.
We hope that the styling ideas provided above can be your springboard to exploring various styling types and navigating a bit of adventure in terms of your own fashion statement. If you wish to acquire custom-fitting bomber jackets that will definitely compliment your body form and fashion style, you better check out Fangyuan to get top-quality OEM jackets. Just send us your specific design, and we will deliver.