Winter fashion in South Korea is always being anticipated by many South Korean fans all over the world. People look forward to the new trendy jackets, coats, skirts, tops, accessories, and more. Here is an article if you are interested to know the recent Korean winter fashion trends for both men and women.
Korean globalization is currently happening, thanks to South Korea's popularity in terms of music, k-dramas, and most especially, their fashion sense. South Korean fashion has been on the top global stage for many years now, and it seems like it will still stay on the top for a longer time.
Although Korean fashion is a bit tricky because its beauty lies in individuality and the capability to express oneself through fashion clothing, there is always an outfit trend that keeps on surfacing, which South Korean natives innately and instinctively do. To know more about their recent winter trend, here is a list of Korean fashion trends both for men and women.
List of Korean Winter Fashion for Men and Women
Oversized Outfits
Denim Jeans and Jackets
Monochromatic Outfits
The Korean Winter Fashion 2021
1. Oversized Outfits
The oversized winter Korean outfit trend is not really new, but trust us when we say no one does and wears it better than Koreans. Oversized fashion outfits have evolved almost like art as South Koreans have a way to construct large pieces while maintaining the clothes' proper proportions.
An oversized jacket and coat is an excellent winter sample for both men and women. In fact, we have been observing the unisex trend in terms of colors and designs lately. In addition, oversized outerwear is functional as well. This is because you can layer several clothing pieces underneath without feeling chunky.
If you reside in a tropical region or somewhere not as chilly as South Korea, then you can skip the jacket and coat, and substitute it with a nice oversized top.
Sweaters, hoodies, or pullovers can be a head-turner without compromising your comfort or the outfit's function. You can style them with your fave skinny jeans, short pants, or a cute skirt for a softer feminine look. For guys, you can simply match your oversized top with skinny jeans as well. Here are some Korean winter outfits by well-known South Korean celebrities.
An oversized tan coat was worn by Suga of BTS
Solar of Mamamoo wearing an oversized orange sweater while performing on stage
2. Denim Jeans and Jackets
Denim fabric is known to be a timeless fashion material. It can be made into shirts, shorts, skirts, and dresses, but nothing beats denim jackets and jeans as classic staples of everyone's wardrobes, even in the winter season.
With denim material, you can achieve whatever look you want. For example, you can showcase a relaxed style, girlfriend-style, boyfriend-style, or mom-style baggy jeans, which are becoming a staple in South Korea, by the way.
Keep in mind that denim is easy to style and match with because they are versatile. No wonder almost any top and bottom wear can go with it. Next, if you want to have a casual look, wear sneakers. Then, for a sexy and chic look, wear something with heels. Lastly, wear boots for a more on-the-go and rugged vibe.
Here are other trendy denim outfits by South Korean idols.
Ryujin of ITZY wearing an oversized denim jacket
Eunhyuk of Super Junior wearing a washed denim jacket and skinny jeans
3. Monochromatic Outfits
Surprisingly, the minimalist look or monochromatic outfits have a comeback because nothing is really minimal in South Korean fashion. Now, if you want to copy this trend, you have to stick with a monochrome Korean winter look, where all clothing pieces are similarly colored. Technically, it is easy-peasy to achieve this look, plus it makes you look well clothed and perhaps, even taller.
When coming up with a monochromatic look this winter, you should remember that all the clothing pieces do not have to be the same color. As long as you choose to put clothes together with the same shades, you can be able to achieve a monotone look as well. Just make sure you try knitted or tweed fabrics to keep you cozy, even if it is winter.
Here are some of the monochromatic attire of South Korean celebrities.
Sandara Park wearing monotone attire for winter 2021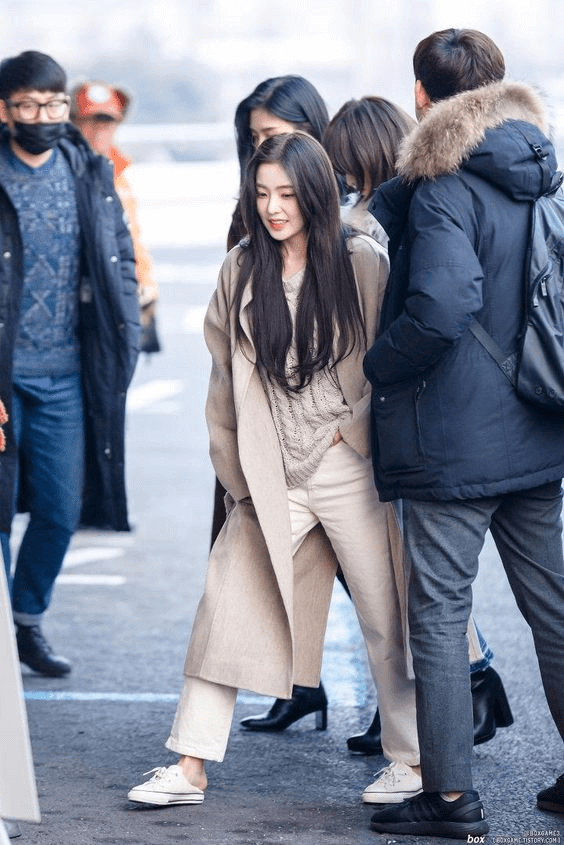 The Bottomline
Due to South Korea's popularity overseas, what tends to be trendy in the country becomes a new craze to its neighboring countries. It is no wonder that a lot of people are looking forward to the new season's fashion in South Korea, especially the winter season of 2021. If you wish to achieve the looks of Korean coats and jackets worn by your favorite k-pop idols, you can simply seek a reliable OEM custom jacket manufacturer. Check out Fangyuan custom jacket services, for they can surely deliver your specifications. Reach them today!