Surprises, celebrations, and romance are all part of the winter season. Colors and light abound in the streets. Christmas is approaching, followed by the New Year. Not to mention that it's the holiday season right now. And you must have made a list of things they wish to do in your time.
And before venturing out, you will definitely wear something that fits the winter season. Something comfortable to wear, warm for the chilly weather, and complements your style. That's right, a piece of warm fabric for winter. And what's better than looking out for the best fabric suppliers for yourself?
Best 7 Fabrics For Winter
Shops are loaded with winter wear apparel months before the winter. These garments are designed to keep your customers warm and comfy even in subzero temperatures. If you haven't noticed, all winter wear appears to be the same, with minor variations in style and materials. This is due to the fact that some are made to be worn during specialized sports such as trekking, snowboarding, and so on.
Not everyone is a connoisseur in choosing the appropriate winter apparel. Not to worry, we've listed the various types of fabric used in jackets, as well as where they're used, to help you give the best variety to your shoppers.
Wool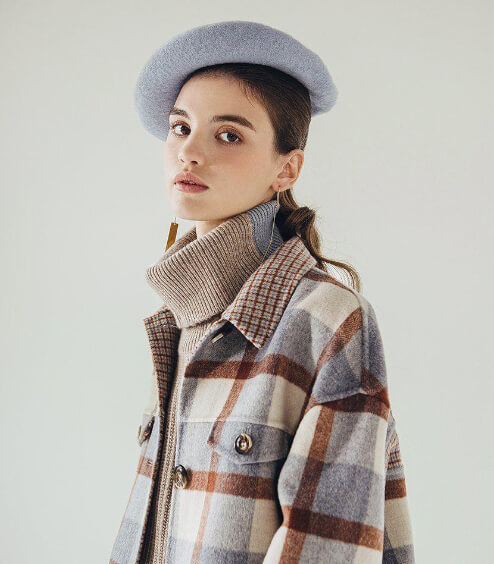 When it comes to winter clothing, wool is the most popular fabric choice. Wool's popularity is due to its lightweight and durable nature, which can withstand even the coldest of temperatures. Wool has been used for millennia to make winter clothing.
Wool is a natural product that is obtained from animals. Wools are categorized into the following types based on the type of animal:
Merino Wool
Merino wool comes from merino sheep, which are bred in Australia. Merino wool is the most popular type of wool.
Cashmere Wool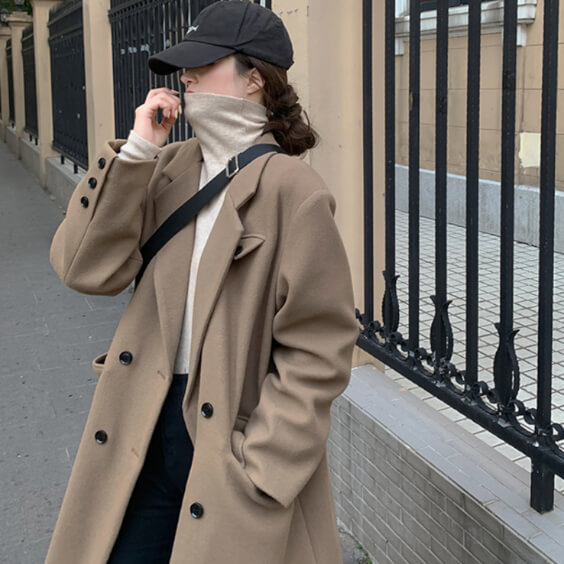 Cashmere is one of the different sorts of wool. It is obtained from a species of woolly goat raised in mountainous regions such as the Himalayas, Kashmir, and Nepal. Cashmere coats are lighter in weight, making them ideal for chilly days.
Cashmere winter apparel is the warmest option available. Cashmere fiber has a unique insulation mechanism that can determine if it is hot or cold outside. There is no specific reason for the fiber's clairvoyance, but it is reasonable to state that it provides comforting warmth even in the most frigid weather.
Cashmere coats are typically monotone in colors such as Beige, Grey, and others, but they provide more warmth than woolen clothing. Cashmere jackets can last for years if properly cared for.
Cashmere coats or jackets are not just for the cold winter months but also for the chilly autumn months. They are the best fabric for a trench coat.
Mohair Wool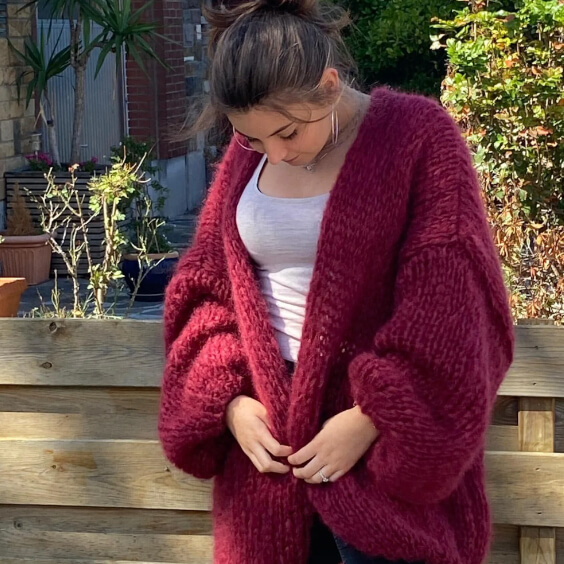 Mohair wools come from Angora goats whose skin is filled with shaggy hair. Mohair wool is noted for its puffy softness and luster quality, which underscores why it is referred to in the textile business as "diamond fiber."
Mohair wool is a type of wool that originates from Angora goats. Angora goats have a fuzzy fleece and are found mainly in Central Asia, the Middle East, and Europe.
Mohair wool is the most refined and luxurious form of wool in the wool family. Mohair Wool's sophistication stems from its ability to provide the best insulation and unparalleled comfort to the wearer.
Mohair wool is water repellent and can be worn in other seasons. Mohair gives a blend of chilly and warm sensations when worn in seasons such as summer or spring.
Mohair wool is used in winter wear such as scarves, pullovers, cardigans, and jackets.
They are also uncomplicated to maintain and have the ability to last for many years.
Alpaca Wool
Alpaca wool is derived from alpacas produced mainly in South America. Alpaca wool has essentially every desirable characteristic, including softness, durability, and moisture resistance. Alpaca wool is yet another exotic wool that is employed in the production of high-end formal wear and gowns.
Angora Wool
Compared to all other wool types, which come from sheep and goats, angora wool is an exception. The wool comes from a unique breed of rabbit called angora rabbit. There are also angora goats; however, angora wool typically refers to the wool obtained from fluffy angora rabbits.
Angora wool is well-known for its exceptional fiber quality. Coats made from angora wool are usually expensive, owing to their better insulation system compared to other wool varieties.
Vicuna Wool
Vicuna wool comes from vicunas, which belong to the family of alpaca. Vicuna wool is the most expensive of all wools.
Qiviut Wool
Qiviut wool comes from a type of musk ox. Qiviut wool is mainly used in smaller winter garments like gloves, hats, etc.
Along with its many benefits, the woolen fabric is also water-resistant, making it ideal for keeping you from getting wet and cold in harsh weather.
2. Leather and Faux Leather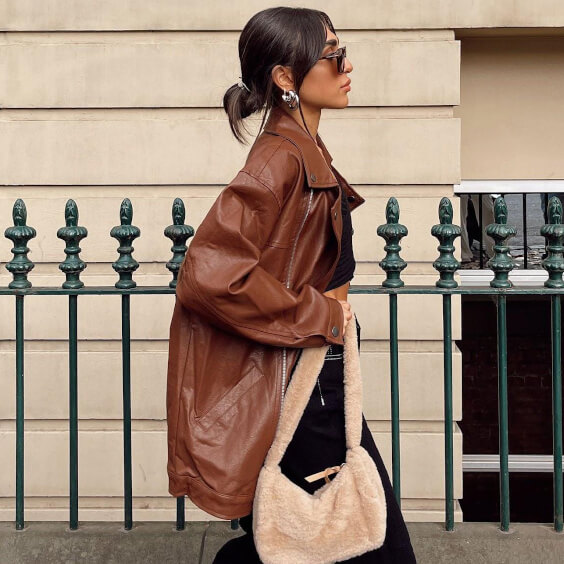 Leather fabric garments generally have a suave appeal. Suppose you're wondering if leather coats are warm enough in the winter. The answer is an emphatical no. Leather jackets do not have a robust insulation system, making them unsuitable for winter wear. However, if you wear layers underneath your leather jacket, you'll have the perfect, stylish winter outfit.
In the winter, it is recommended that people wear layers of warm clothing before layering on a jacket. The method is the same for leather coats. Before draping your leather coats, put on some woolen layers.
Some leather jackets include a woolen inner. Leather jackets provide warmth with a woolen inner.
Leather fabric garments typically have a classy appeal.
3. Fur and Faux Fur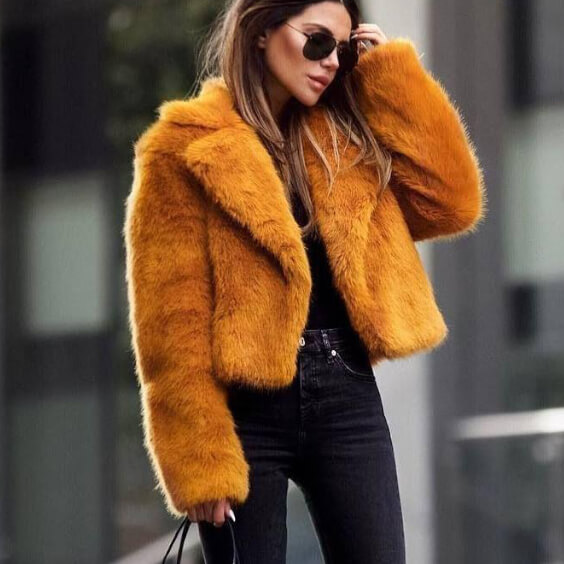 If you're constantly freezing in cold weather, investing in lovely fur or faux fur clothing is your best bet. We sapiens have worn fur jackets to protect ourselves from the harsh, bitter winter since the stone era. Fur is the greatest option for staying warm and comfortable in the winter.
If you didn't notice, fur and faux fur are not the same things. Real fur is made of animal fur, while faux fur is created of plastic. Faux fur does not provide the best insulation system compared to natural fur, and some people may find it unpleasant to wear.
Faux wear clothing is an option if you prefer cruelty-free winter attire. On the other hand, natural fur jackets are the best fabric for cold weather and the only alternative for ultimate warmth.
Fur jackets are relatively expensive because they are composed of a natural material. Faux fur jackets are a less expensive alternative to fur jackets.
4. Fleece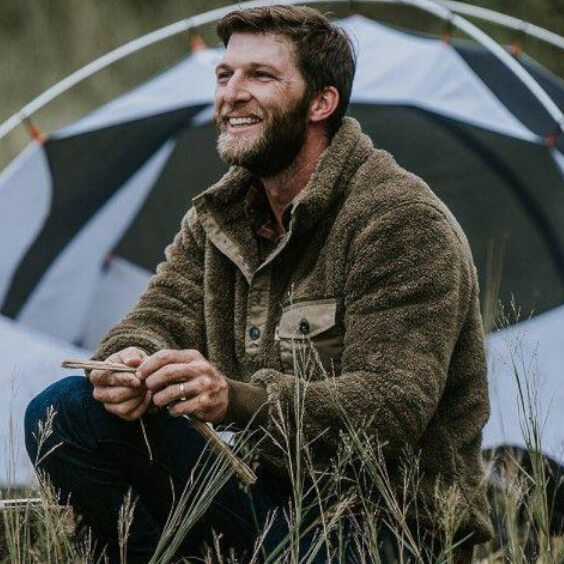 Fleece clothing, like wool clothing, is an exquisite winter garment. However, unlike wool, fleece is a synthetic textile manufactured from polyester fiber.
Fleece fibers keep you warm and cozy and are available in various winter wear styles such as cardigans, pullovers, jackets, and coats. They resemble the natural fur on the sheep's skin in appearance.
They are water-resistant because they are composed of plastic, making them excellent for trekking, skiing, and other activities that need contact with the snow.
Fleece coats are simple to care for. They don't become dirty quickly and are simple to clean and dry. They are effortless to transport.
If you're looking for a warm, cozy, durable, yet inexpensive winter coat, fleece coats are an ideal buy.
5. Nylon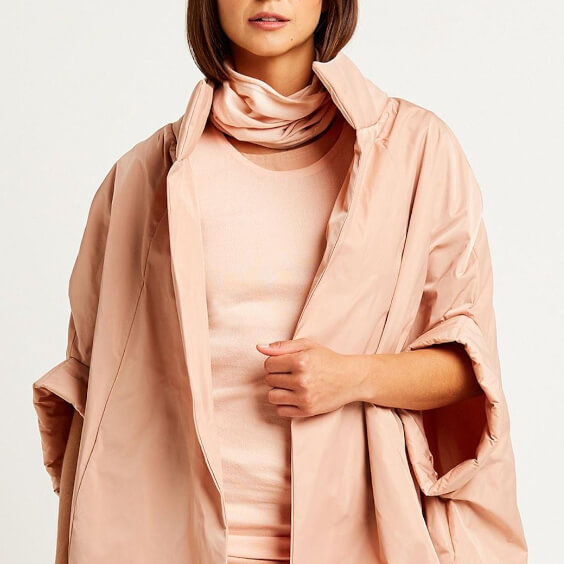 Another wonderful fabric for the cold is nylon. Not only is nylon warm to wear, but it also comes in a variety of styles and trends, making it a popular choice in the winter.
Nylon is a synthetic fiber manufactured from polyester and other plastics. Their properties are similar to silk. Because nylon clothing is wet and dirt resistant, most mountaineers and bikers like to wear nylon jackets.
If we're talking about warmth, I'm afraid you'll be disappointed to learn that nylon does not have an effective insulating system. It keeps you warm, although not as well as woolen fur coats. Nylon coats should be worn over woolen or cotton shirts.
Nylon clothing is easy to care for and dries quickly. Nylon jackets aren't just for the winter; they're also suitable for other seasons. They are the best fabric for winter jackets.
6. Flannel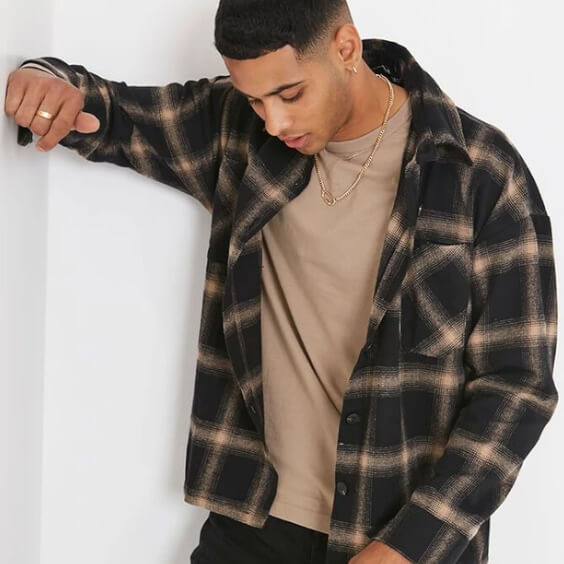 Flannel is available in a variety of styles. Flannel is usually manufactured from a variety of materials, including wool, cotton, and synthetic fibers.
Flannel clothing is lighter in weight than other winter fabrics and exudes a carefree, minimalistic vibe. Like any other winter garment, flannel provides excellent insulation and adds warmth and comfort.
As previously said, flannel is available in various material types and styles. Cotton flannel is said to provide more warmth than other flannel varieties.
Flannel cloth is typically available in casual shirt styles. If you want a no-nonsense style in the cold, flannel fabric is the way to go.
7. Corduroy
Corduroy fabric is made from cotton fabric and is also one of the popular winter fabric choices.
The last six months of a year are usually chilly wind and shivering cold. Finding a fabric that is appropriate for autumn and winter is a tedious task. If you wonder whether there is such a fabric, then the answer is a bright yes.
Corduroy jackets and pants can be seen worn by people both in the autumn and fall season. Not only are they stylish, but they are also lovely to wear.
But corduroys do not provide enough warmth since it has a poor insulation system. Instead, it can be worn paired with other clothes or shirts like cotton, wool, etc.
In addition, corduroy isn't entirely waterproof. This is attributable to the fact that they are composed of cotton, which is not a water-repellent fabric.
Tips to Consider While Buying Winter Wear
We've already learned about the different sorts of fabrics used in the winter. Yay! It's time to go shopping. Along with fabric expertise, here are some other purchasing suggestions for a more enjoyable and valuable shopping experience.
Expensive Winter Wear
Winter wear is usually expensive. Some brands offer their winter clothes at such prices, people get intimidated and end up buying cheap quality clothes.
The reason behind the pricey cost is proportional to the apparel quality. Try spending quite the money for a warm winter or try purchasing from well-known brands which offer a lower price.
Check the Quality of the Product
If you shop online, you need to exercise extreme prudence, or you will be easily misled by counterfeit products. Before placing a purchase, do some research on the brand and website.
Maintaining the Fabric
Each fabric requires a different washing technique. If you wash it incorrectly, the product will lose its luster and quality.
To avoid such an unfortunate situation, wash the fabric according to the directions printed on the back of the garment or search for instructions on the internet.
Choose the One That Best Reflects Your Style
Winter wear is synonymous with bulky jackets. Not everyone likes to wear heavy jackets. If you fall into this category, invest in a coat or sweater that complements your aesthetic.
Conclusion
Phew, the lengthy article is finally finished. We believe you have understood different sorts of fabrics and when they are appropriate to wear.
Take the time to research the company's website before purchasing winter clothing, as many brands supply counterfeit luxury products.
Not sure how to verify the legitimacy of a brand or website?
Don't worry; we heard you and are here to help you simplify things. Enter the world of exceptional winter apparel collections that are reasonably priced and made of high-quality materials. You can contact Fangyuan for all your apparel needs.