It's that time of year again…the weather is getting colder, sweaters are out in force, and the winter magic is on its way! Winter is on its way, and with it, our beloved winter festivities, Christmas Eve, and cold snowy days! And, of course, most of us would like to have images to remember all of these events and feasts!
If you're planning a winter family photoshoot, this post will provide you with the greatest outfits for winter family pictures that are trendy and properly tailored for the entire family. This is why winter photoshoots are becoming increasingly popular and in great demand, and all of the photo salons are currently incredibly busy with all of the customers!
And if you're thinking of doing a winter photoshoot but aren't sure what theme to go with,what clothing to buy and wear, or if it should be done in a studio or outdoors, we're here to assist! We'll share some fantastic winter photoshoot outfits ideas with you in this post.
What Should a Family Put On for Winter Photos?
There are several possibilities available for winter family photography clothing. Whether you enjoy the season's rich, stunning colors (think deep burgundy, forest green, silvers, and golds) or like to keep things simple, contemporary, and neutral, there's an option here for you!
The Winter Family Photos Outfits List:
Classic Black and White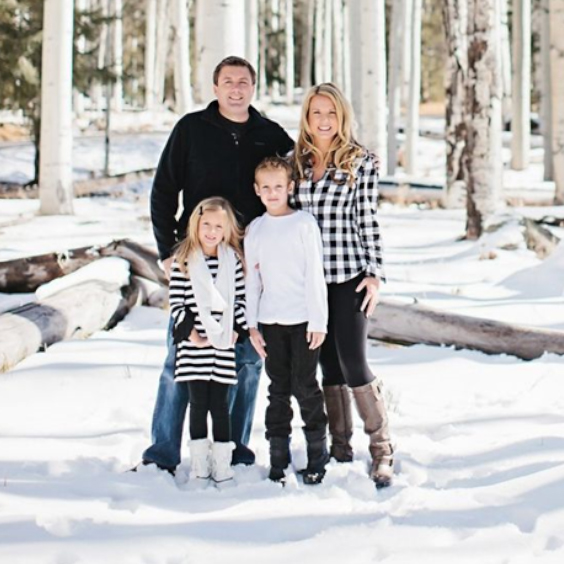 People adore this basic yet elegant neutral color scheme. On a small girl's outfit, the colors are black and white/ivory, with solids and only a slight chequered design (which has a touch of blue with black and white). The lightweight jackets look great with the black denim, and the mama's sweater dress is extremely flattering and sophisticated.
Burgundy, Plaid, and Tan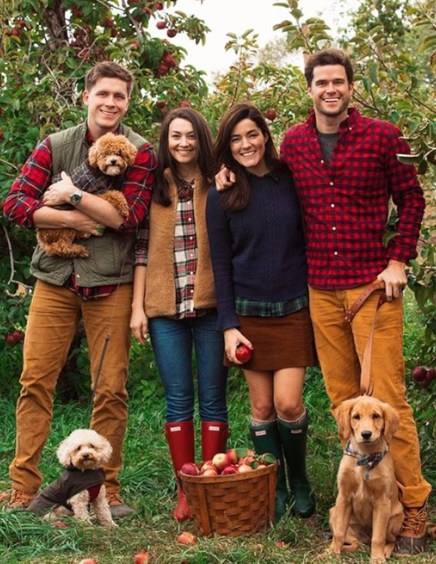 This lovely set of winter family picture costumes has a neutral tan sweater, a burgundy knit, and a splash of plaid. People also like the subtle plaid under the tan sweater.
We'd pair these tees with jeans for a more relaxed appearance, or with formal pants for the boys and a black silk midi skirt for the mother. A knit sweater or white puffer jacket with a checkered skirt and black boots would complete the look if there is a girl in the family.
Neutrals, Black, Leather, and Wool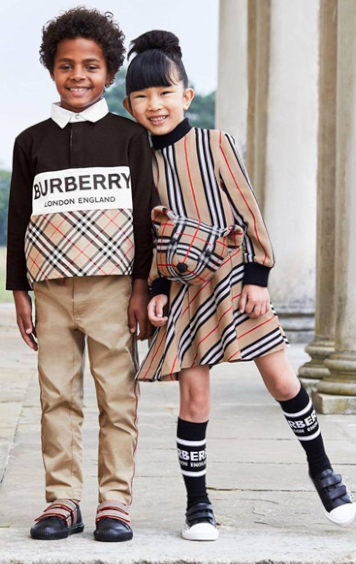 Another nice and traditional neutral mix. The light beige, brown, and black colors complement each other beautifully. This winter family photograph is informal but nevertheless elegant, and the youngster looks fantastic in the frock and jumper with the Burberry emblem. The colors merge wonderfully with the winter setting, and everything appears to be in sync.
Warm Red Tones, Fur, and a Plethora of Layers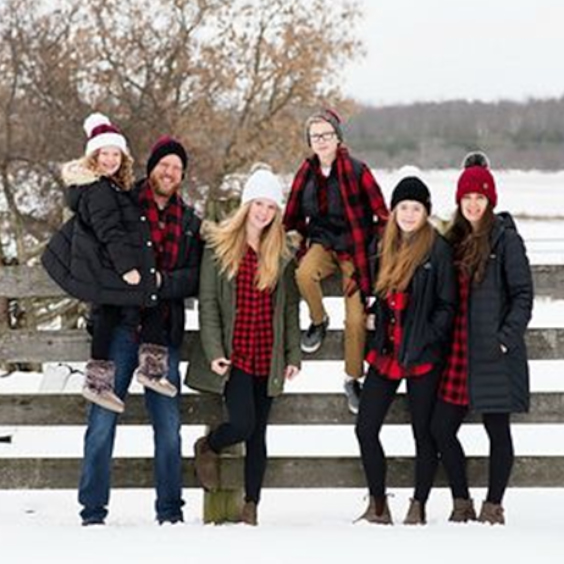 This winter family photography dress concept is full of vibrant colors. The colors are subdued, yet they stand out brilliantly against the white snow. Both the mother and father can wear forest green and rust-red tones, while the daughters can wear lighter neutrals with bursts of black, red, and green. What a fantastic mix!
Black Boots With a Black and White Gingham Pattern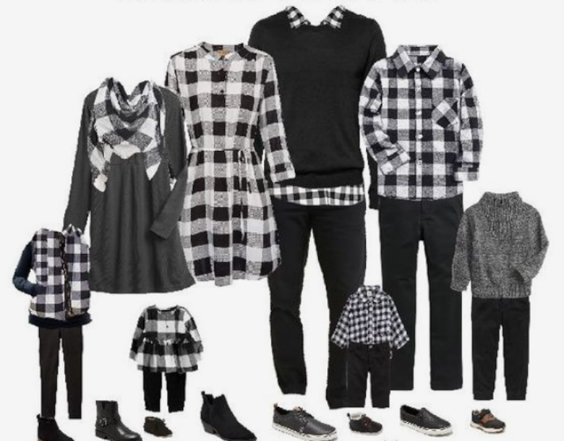 This is an unusual dress combo, yet it fits perfectly. The linen fabric softens the stark black, and the black and white gingham dress is a natural complement to the hue.
It only goes to show that this clothing would look amazing for indoor or outdoor winter photography. If you have additional individuals, you may outfit them in a combination of solid black, solid white, gingham, and similar tones to this lovely gingham.
Warm Grays, Black, Tan, and Cozy Blankets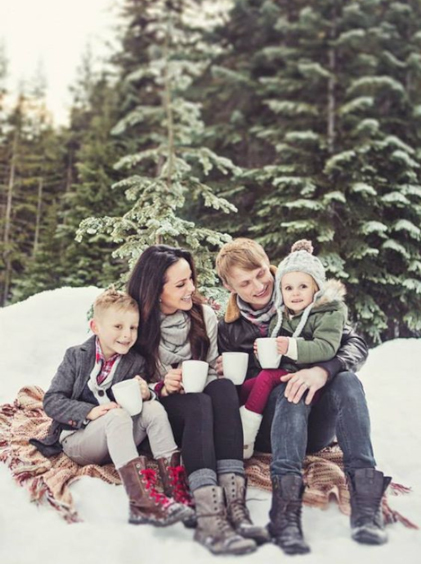 This looks like the coziest winter family photograph ever. While theclothing are understated (tan slacks, white beanie caps, a black jacket, and a gray wool fedora), the Mexican-inspired throw blankets are the focal point. These blankets have a hippie flavor and are lovely in subdued colors.
Forest Green, Red and Yellow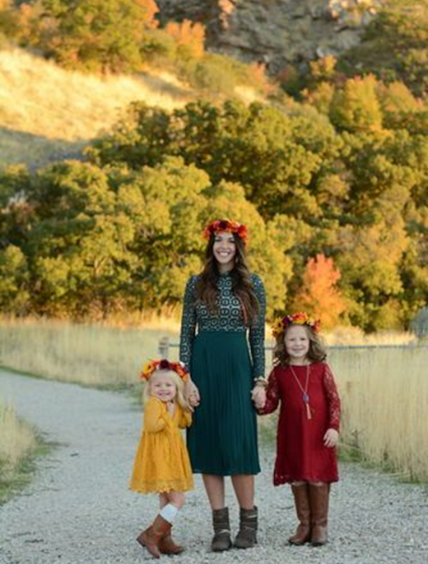 If you like bright colors, this outfit is ideal for you. The exquisite green dress and flower hat stand out against the woodland backdrop, and the girls' understated red and yellow outfits with knit leggings and brown boots look fantastic.
Red Pajamas & Pink Sweatshirts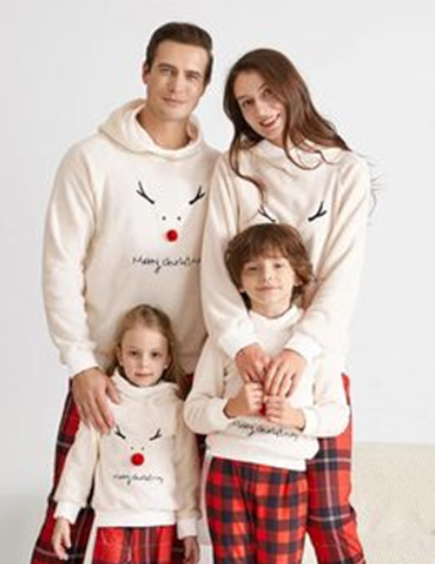 This is the one for a lot more relaxed, playful, and candid Christmas themed look. People adore the adorable pajamas worn by the children, as well as the matching patterned pajamas worn by the parents.
We also like how their clothes match and are all the same theme, which adds intrigue and gives the impression that the style is "matchy-matchy."
Warm Textured Earthy Knits and Linen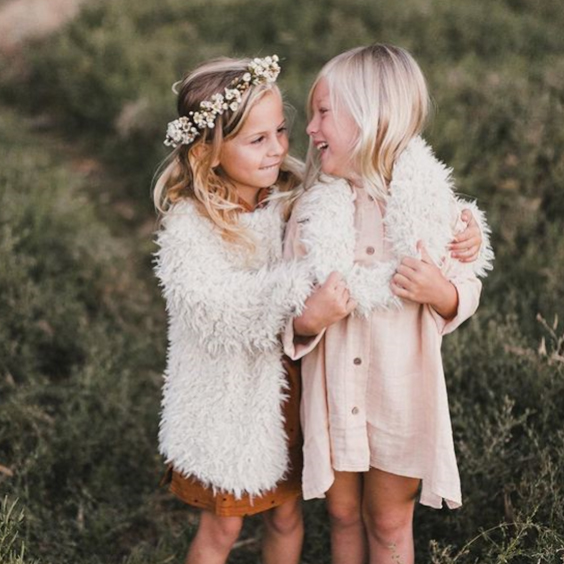 This photo session reminds us of winter in California. Although there is no snow, the ensembles are nevertheless comfortable and toasty, with a winter atmosphere.
The girls are dressed to the nines in a gorgeous fur pullover and wide-leg linen leggings. An adult in neutral linen button top and dark charcoal chino trousers, and any other siblings in a combination of muted colored or neutral linen and knits, would complete the appearance for a family.
Bright Whites, Warm Browns, Grey, and Muted Floral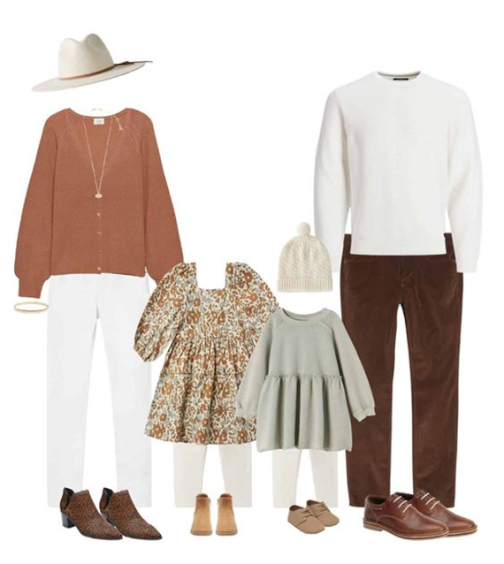 This combination of floral and white jackets is sure to give a vibrant touch to your family photoshoot. Use contrasting colors, or complementary colors, the choice is all yours!
Conclusion
It is a good idea to think about what to dress before the autumn and winter picture sessions begin. Weather changes quickly and might be difficult to predict, especially if your picture session is a few weeks or even days away.
Be adaptable with your winter family photos outfits for the weather. When children are uncomfortable, they appear unhappy. There are no terrible weather days; only lousy outfit selections. It is very OK to wear jackets and caps. Accept it. It is true to the surroundings, and that is the aim.